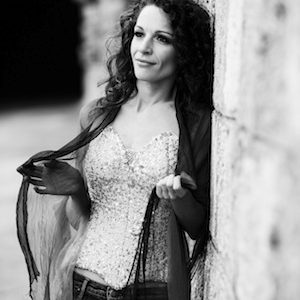 Eva K. Anderson had just turned two, when she started singing along to "The Carpenters" songs. Was it luck or destiny, that Karen Carpenter's voice stirred her first sensation of "feeling at home with music" in the little girl?
Her dream of becoming a famous singer was inspired by the Swedish rock band "Europe" as a nine year watching their video "The Final Countdown" for the very first time. With her eyes wide open she instantly knew for sure: "This is it!"
At the age of twelve Eva K. Anderson's live debut made her fall in love with singing live on stage in front of an enchanted audience.
Playing the right part?
Eva was just twelve when she took part in her first live appearence when her school class was working on a school play in which all the girls and boys could apply for their favourite role in "Mozart's Magic Flute". Eva was thrilled by the opportunity to sing on the school stage and practiced the Aria of the "Queen of the Night" (the most difficult part of the opera) around-the-clock. Despite the attraction of this challenging song Eva was still not at ease with the 'dark' role of the queen and decided to apply for the role of Princess "Pamina" instead.
Standing in front of her classmates realising that the performances had to be mimed left her totally puzzled. Unsurprisingly, Eva did not end up playing the desired princess part – there were other more talented miming princesses in class.
Everything turned out fine, when Eva was entrusted with the role of the narrator, the common thread of the entire performance. Eva was also the only participant to write her own parts and used the sound of her own voice – a first important step to becoming a singer/songwriter.
Various concerts as a swing, jazz and gospel singer were the norm for Eva K. Anderson's teenage years. A personal highlight during that period was a 10-day-tour through China with a Jazz band. She certainly remembers her enthusiastic Chinese fans presenting her with flowers and little gifts and making her feel like a real pop star for the first time in her life.
On leaving school Eva decided to go to university to study Business. During the final part of her studies, she stumbled across producer and songwriter Harald Hanisch and sang with him at his best friend's wedding. Long story short: they fell in love and began to write pop songs together.
One of Anderson/Hanisch's first co-written songs was "Gone Digging" commonly known as "Ich Lebe" (German for "I'm alive"). Sung by Christina Stürmer, one of Austria's most successful pop stars in Germany, Austria and Switzerland, the German version of the song remained the number one hit on the Austrian Charts for nine weeks. In spring 2005 the single rose to number four on the German Charts within three weeks and sold over 1.000.000 copies. For "Ich Lebe" Eva K. Anderson received multiple platinum and gold awards.
It was a profoundly overwhelming experience when she found herself in the middle of a crowd of 40.000 people with everybody singing her song: "Ich lebe, weil du mein Atem bist."
In 2008 Eva K. Anderson set the stage for her career as a singer/songwriter and performed her debut-single "Fortune Teller" at the Ö3-Soundcheck, Austria's biggest band contest. The single reached # 7 on the Austrian Charts and stayed in the charts for 17 weeks. In spring 2009 the album "Fortune Teller" was released and the second single "A Sound Of Silence" reached # 7 and stayed in the charts for 21 weeks. The true story of Eva's touching "no need for words" encounter with an old Greek farmer's wife enchanted many and remained on heavy radio rotation for many months.
Later in 2009 Eva K. Anderson and "Fortune Teller" were nominated for "best song" and "best pop artist" for the "Amadeus Award", the Austrian "Grammies".
She has played numerous live concerts and TV-Shows, including performances at best selling author Paulo Coelho's private party at "Melk Abbey" and her participation at the Austrian pre-selection for the Eurovision Song Contest 2011 with her song "I Will Be Here" live on TV.
Anderson was given the Cultural Award 2011 by the city of Leoben and felt deeply honoured by the appreciation of her home town.
Eva K. Anderson's new album "Go With The Flow" has been released on January 25, 2013.
"I'm very excited about the release of 'Go With The Flow' and looking forward to playing many more shows. I simply love to sing and tell my stories on stage. Those precious moments when I am entirely in the moment or the 'here and now'. I carry every concert and encounter with you wonderful people in my heart like a priceless treasure… See you soon!"
Eva K. Anderson
Facts & Figures
Triple gold award in Austria for "Ich Lebe" (sung by Christina Stürmer)
Gold award for the single "Ich Lebe" in Germany
Four times platinum award for the album "Freier Fall" (Christina Stürmer) in Austria
Double platinum award for the album "Schwarz Weiss" (Christina Stürmer) in Germany
Over 2 million records sold (compilations included)
Third place at Austria's biggest band contest "Ö3-Soundcheck" in 2008 with the song "Fortune Teller"
"Fortune Teller" reaches # 7 of the Austrian Billboard Charts and stays in the charts for 17 weeks. Extensive radio airplay on Austria's major stations
Debut album "Fortune Teller" released in spring 2009
Double nominee for "best song" and "best pop artist" for the "Amadeus Award" – the Austrian "Grammies" – in 2009
Second single "A Sound Of Silence" reaches # 7 of the Austrian Billboard Charts, stays in the charts for 21 weeks, heavy rotation on Austria's radio stations for 12 months
Numerous live concerts and TV-shows in Austria (including performances at best selling author Paulo Coelho's private party at "Stift Melk" and at Austria's biggest TV charity show "ORF Licht ins Dunkel Gala" 2009)
Eurovision Song Contest 2011: Austrian pre-selection with the song "I Will Be Here" – live TV-show
Cultural awardee 2011 of the city of Leoben
Release of the album "Go With The Flow" on January 25, 2013